IT'S A VOLATILE WORLD
Markets are vulnerable to shocks, ranging from political instability in the US and the EU, concerns over a slowdown in China, fluctuating oil and commodity prices – or simply another Black Swan event. In the past, markets have witnessed bouts of volatility during episodes like the Global Financial Crisis or the collapse in oil prices. Given the possibilities of such volatile conditions, many investors are seeking a core holding in low volatility strategies. These strategies target lower volatility, so prices need to recover less following a market sell down. And because these strategies typically lose less in a downturn, they deliver higher risk-adjusted returns across market cycles – outperforming more volatile indices.
WHY LOW VOLATILITY EQUITY INVESTING WORKS?
Over the last 10 years, the MSCI All Country World Minimum Volatility and Asia Pacific ex. Japan Minimum Volatility Indices have produced higher returns with lower risk. The low volatility result is due to lower drawdowns during adverse market conditions. A portfolio with lower drawdown helps to accumulate returns over the long term through gaining more by losing less.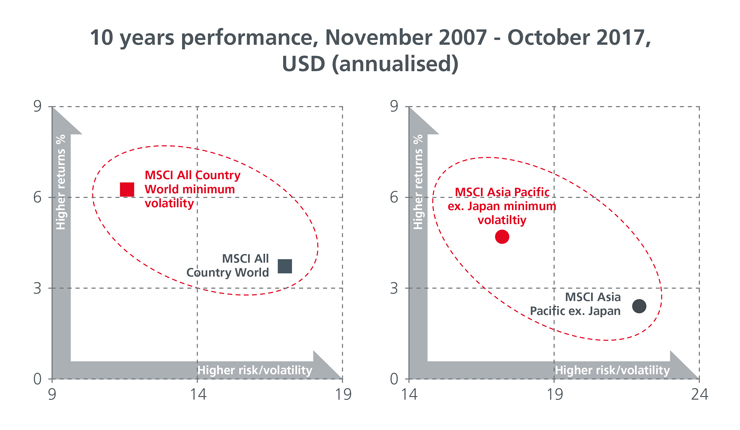 Source: Eastspring Investments, Bloomberg, in USD as at 31 October 2017 Please note that there are limitations to the use of such indices (index) as proxies (a proxy) for the past performance in the respective asset classes/sector. The historical performance or forecast presented is not indicative of and should not be construed as being indicative of or otherwise used as a proxy for the future or likely performance.
OUR QUANTITATIVE INVESTMENT CAPABILITIES
Eastspring has been managing Asia Pacific ex Japan low volatility equities since 2013. As at 31 October 2017, the dedicated and experienced quantitative specialists with average of 17 years of industry experience was managing USD1.1 billion in Asian equities.
Our portfolio managers begin by analysing nearly 3,500 stocks in Asia and 11,000 in the Global portfolio; the MSCI Asia Pacific ex. Japan Index only has approximately 700 stocks while the MSCI All Country World Index only has approximately 2,500 stocks. This is then filtered for investability using minimum market cap thresholds. Our larger filtered universe allows us to draw on far greater number of potential low volatility candidates for our portfolio.
Portfolio construction and stock selection is largely quantitative, aiming at constructing a minimum volatility portfolio from an investable dividend yield focused universe. An optimisation process is applied to derive the optimal weights. A number of constraints – such as maximum individual stock weight, portfolio concentration, liquidity, sector, country and style exposures – are applied in order to manage systematic and idiosyncratic risk. These weights are selected not to maximize return, but to minimize portfolio volatility, a procedure which is less susceptible to forecasting errors and behavioural issues.
OUR FLAGSHIP FUNDS
QUANTITATIVE INVESTMENT TEAM
About Eastspring Investments
Eastspring Investments is a leading asset manager in Asia that manages over USD 188 billion (as at 31 December 2017) of assets on behalf of institutional and retail clients. Operating in Asia since 1994, Eastspring is the Asian asset management business of Prudential plc, one of the world's largest financial services companies.
contact us
GENERAL ENQUIRIES
RETAIL ENQUIRIES
Back to top ^