IT'S A VOLATILE WORLD
Markets are vulnerable to political instability in the US and the EU, concerns over growth in China, the ongoing situation in the Middle East, fluctuating oil and commodity prices – or another Black Swan event. The past two decades1 have been marked by bouts of volatility triggered by similar crises. Furthermore where previously such crises used to be few and far between, they now occur much more frequently. Given the outlook for volatile conditions, many investors are seeking a core holding in low volatility strategies. These strategies target lower volatility, so prices need to recover less, following a market sell down, to reach the original level. And because these strategies typically lose less in a downturn, they deliver higher risk-adjusted returns across market cycles – outperforming more volatile indices.
Click on the video below to find out more about Eastspring's approach to managing volatility.
Why low volatility EQUITY investing works?
Low volatility equity investing works as it delivers higher risk-adjusted returns across market cycles. The MSCI Asia Pacific ex Japan Minimum Volatility Index has outperformed the MSCI Asia Pacific ex Japan Index over long term.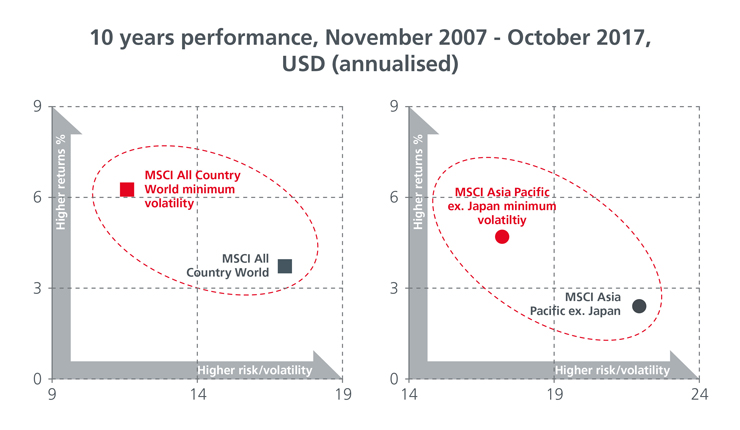 Source: Eastspring Investments, Bloomberg, MSCI Indices, data as of 31 December 2001 to 31 July 2016.
low volatility : Busting Common myths
Although low volatility strategies have been in the market for sometime, investors still tend to have preconceived notions about low volatility equity investing. In this section, we address these notions and showcase the facts.
OUR QUANTITATIVE INVESTMENT CAPABILITIES
Eastspring has experience in managing more than USD 500 million in Asian Pacific ex Japan equities with a Low Volatility approach since 2013 2. The capability expanded with the commencement of a Eastspring Investments - Global Low Volatility Equity Fund, bringing total funds under management for Quantitative Equity funds to USD 1.2 billion 2.
Our Quantitative Solutions Group consolidates all the quantitative functions in Singapore under one umbrella. The highly qualified and experienced team will ensure a consistent and robust approach to the development of our quant models and tools.
Quantitative investment strategies (QIS) team
Benjamin Dunn, Head of Quantitative Solutions Group

Benjamin (Ben) joined Eastspring Investments, the Asian asset management business of Prudential plc, as Portfolio Strategist in June 2014. Ben is the Head of the Quantitative Solutions Group which incorporates all of Eastspring Investments quantitative activities.

Prior to joining Eastspring Investments, Ben has been a Quantitative Equity Portfolio Manager at Ankura Capital (a BNY Mellon subsidiary) for over 10 years managing both Australian and Japanese funds. He had previously held various roles spanning quantitative research, equity trading and software engineering at Queensland Investment Corporation (QIC) and Queensland Treasury Corporation (QTC). Ben has more than 19 years of financial industry experience.

Ben is a CFA charterholder and holds a Bachelors degree in Information Technology.

Kenneth Tan, Portfolio Manager

Kenneth Tan joined Eastspring Investments, the Asian asset management business of Prudential plc, in August 2015.

Kenneth is the Investment Director for Eastspring Investments Quantitative Investment Strategies and he is a portfolio manager for Eastspring's Quantitative Equity Funds. He also participates in designing, implementing and managing other systematic equity funds and undertakes research and development of systematic alpha and smart beta investment strategies.

Prior to joining Eastspring Investments, Kenneth was the Head of Asia Quantitative Research with UBS Investment Bank, Hong Kong, responsible for research and advisory on various aspects of the investment process including factor and style research, systematic investment strategies, portfolio construction and risk management. He led his team to second place for quantitative analysis in Asiamoney investor poll, and has individually ranked among the top five quantitative analysts in Asia by Asiamoney. Prior to that, Kenneth was a quantitative strategist with Morgan Stanley, London, and an investment officer at GIC. He has 17 years of financial industry experience.

Kenneth holds a MSc in Mathematics and Finance from Imperial College London and a BSc (Honours) in Actuarial Science from The London School of Economics and Political Science.

William Barbour, Head of Client Portfolio Managers

William (Bill) Barbour joined Eastspring Investments, the Asian asset management business of Prudential plc, as a Client Portfolio Manager (CPM) in June 2014.

Bill is the Head of Client Portfolio Managers where he is responsible for the management of our CPM team and works closely with the investment, sales, marketing and product development teams. He is also the CPM for Eastspring's Quantitative Equity funds and Eastspring's Global Asset Allocation team. He has over 36 years of investment experience in managing investments with an emphasis on global equities.

Prior to joining Eastspring Investments, Bill spent 11 years at Deutsche Asset Management Ltd (DeAM) where he was the Investment Specialist in Asia and MENA for DeAM's global equity strategies. Prior to joining DeAM, he successfully managed Australian and global equity portfolios for Zurich Investment Management and was head of equity investment at two previous Australian investment organisations.

Bill has been a regular columnist in the Australian Financial Review where he contributed a monthly Economic Briefing column which focused on the global economy and related investment topics. He has also appeared in the print media throughout the Asia Pacific region and on business television programs including Bloomberg, CNBC, Sky News and Channel News Asia.
ABOUT EASTSPRING INVESTMENTS
Eastspring Investments is a leading asset manager in Asia that manages over USD146 billion (as at 31 December 2016) of assets on behalf of institutional and retail clients. Operating in Asia since 1994, Eastspring is the Asian asset management business of Prudential plc, one of the world's largest financial services companies.
contact us
GENERAL ENQUIRIES
RETAIL ENQUIRIES
1This is written on 27 September 2016.
2As at 30 September 2016
Back to top ^